TOP 6 Leotards of Universiade in Kazan 2013
We are happy to congratulate Team Russia of Rhythmic Gymnastics on the total victory in the Individual and Group All Around! Our gymnasts are the best in the world! Specially for them we sew our brilliant leotards, which brings luck and victory at many competitions!
We also try to keep up with the new fashion tendencies in rhythmic gymnastics. Our painter went to the Universiade 2013 (Kazan) exactly for this purpose. Finally, Olga defined TOP 6 leotard trends popular among the famous rhythmic gymnasts!
Head painter of "Gymnastics-Fantastic":
1. Black color theme acquires new and new sound. Black is diluted by rich purple, blue and green. Energetic red stresses look very expressive. Combination of laconism of accurate, clear lines and rich decoration of crystals, half-beads and melting lace creates the image of aristocratic elegancy, and at the same time leotards don't lack the light and dynamics. Our leotards Nicole, Fire Flower and Tyra are made in this style.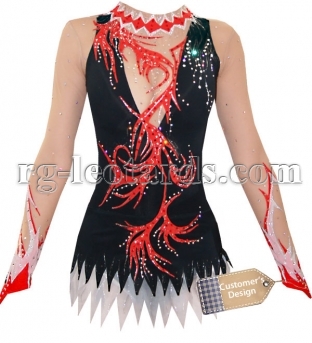 2. Dressy leotards can be seen in monochrome gamma with unclear paintings and washout lines of various fabrics - velvet, mesh, guipure, stretch lycra, decorated with a great amount of crystals of various shape and form. Monochrome gamma is reflected in such leotards as Audrey, Dana, Helga
3. Bright leotards are often emphasized by the clearness and beauty of the color. One color is the leader in two or three similar gradations plus some contrast additions help to pick it out and stress. For example, today the most popular combination is pink, apricot and yellow, and it looks really showy! Very often you can see such bright shades as sunny yellow, juicy green (salad), neon orange, lemon, pink, scarlet, coral etc. Bright local colors make the leotards Linda, Wandy and Camilla stylish!
4. Bright, local red and pink shades are in good combination with black, purple and yellow. These leotards contain more "active" paintings, clear and sometimes big, but balanced enough. There are leotards, where one red color is the leader or red combined with active multicolored paintings. We also have similar leotards in our web-store: Amanda, Lillian, Orchid.
5. Delicate, fresh for perception leotards in pastel gamma (of guipure, mesh and stretch lycra) also compete for attention. Here quite often only one color leads, sometimes it shares the leotard with white and makes the emphasis by really great amount of crystals, this combination give interesting texture effect. Most popular pastel colors are minty, white, rosy, lavender, blue, yellow. Delicate leotards are especially adored by our customers – Melani, Stone Flower and Mary.
6. I want also to stress new structural elements: fluffy streaming skirts of soft design, skirt rise on the waist line, volume flowers, collar imitation, fringe, circular skirt of light "flying" fabrics. Materials: mesh with clear textural effects (of velvet, chiffon etc.), velvet, printed stretch lycra, self-colored stretch lycra, various lace.
Considering all the last fashion tendencies we've been creating absolutely new collection of rhythmic gymnastics leotards by September 1, 2013! All the RG fashion innovations will be embodied in our new models, which will be on the peak of popularity all along the season! Keep on clicking /
Tweet
Like
+1
Share
Share
Pin it
Our goods
rhythmic gymnastics leotard
Read more
05 Aug 2015 at 07:00
29 May 2014 at 20:00
20 May 2014 at 07:00
Like it? Tell your friends
Tweet
Like
+1
Share
Share
Pin it