Son Yeon Jae, a Korean rhythmic gymnast, impresses with her achievements!
Son Yeon-Jae is a South Korean rhythmic gymnast. A member of the South Korean national gymnastics team, based in Taereung, Seoul. She is the 2014 Asian Games All-around Champion, the 2010 Asian Games all-around bronze medalist, two time (2015, 2013) Asian Championships All-around Champion. Son currently trains in Russia.She's one of the most popular sports celebrities in South Korea, but don't expect Son Yeon-Jae to make a big fuss about it.
Her fans gave her a nickname "Fairy" because she is so petite and delicate. Son accepts this nickname reluctantly. She is not used to such a rapt attention. It makes her feel extremely embarrassed.
As the first rhythmic gymnast from her country to reach the all-around final at the Olympic Games, and the first to win a medal at the sport's world championships, she is learning to deal with the glare of public attention.
"Everyone is watching when I come back to South Korea,"says Son, who has spent the past five years training in Russia with elite coaches.
"Sometimes it feels like pressure but I think it's really good because everyone is supporting me, so I'm so happy and I'm very grateful for everything," - she tells CNN's Human to Hero series.
"It feels really good and I'm so proud of myself ... people say 'First time...' and 'First time a Korean gymnast has...' - everything is 'first!' "
The Son's achievements and successes made her in favor of TV sphere, she started to appear on popular Korean TV shows. Thus, she earned a big social media following, with more than 230,000 fans on Twitter, along with sponsorship deals capitalizing on her cute image.
Thanks to Son Yeon Jae, such beautiful kind of sport as rhythmic gymnastics was given a global attention outside of Olympic years.
"Son is a very unique athlete in Korea,"- her manager Sangun Chung says. "She is one of the few who interact with the audience as an athlete and as an entertainer at the same time. That's what I think makes her so special."
Son Yeon Jae is getting more and more popular every day but she is not yet at the heights of fame that were reached by skating star Kim Yu-Na. Son draws inspiration from the achievements of the former Olympic and world champion.
"She was the legend of figure skating and I was so impressed about this. It's kind of a little bit the same because she performs and I perform too," - Son says.
"I think it's similar sports without skates, so when I saw her Olympic Games in Vancouver, I was so impressed and I thought that I really want to be like her."
Son made her world championships debut that same year, 2010, but failed to qualify for the final as one of the top 24 - though a couple of months later she would win bronze at the Asian Games.
She was so shocked by her world ranking of 32nd, says Chung, that she decided to seek coaching help in Russia - whose athletes dominate rhythmic gymnastics.
The training center Son Yeon Jae trains in is located in Moscow's famous Novogorsk - a hub of excellence catering for more than 30 sporting disciplines. Son mainly works with coach Elena Nefedova but she also receives guidance from the legendary trainer Irina Viner.
"It was really hard without family, friends and everything but I am very grateful that I train in such a good condition with the world's best gymnasts and coaches," - Son, who is from South Korea's capital Seoul, says.
"The first time it was really hard because I can't speak Russian, but everyone is so kind."
"The gym is perfect - it has everything like doctors, coaches, the ballet teacher. And when I train with the really good gymnasts, it makes me push myself more."
Son is the only Korean at the center, but she is not yet seen as a major rival to the home athletes, according to Guillermo de No Coma - a national rhythmic gymnastics judge in Spain, and a video producer.
"Training there is a question of money, and a lot of international gymnasts decide to go there for training camps, paying the (sometimes incredibly high) fee to the Russian Federation," - he says.
"Son is not a real competitor for the Russian gymnasts, because they are in a higher level."
Son, an only child, started out in the sport at the age of five when her mother took her to a children's gymnastics class.
"I really loved to play with the ribbon, the hoops and balls and everything," - she recalls. "I did rhythmic gymnastics because I loved it. I didn't plan anything but when I started, I dreamed about Olympic and Asian Games, everything."
"Rhythmic gymnastics is my everything. I can't even remember myself before I started this sport."
It was a real breakthrough for Son Yeon Jae when after placing 11th at the 2011 world championships, she finished fifth in the all-around final at the London Olympic Games.
"The London Olympic Games was my dream stage and I really wanted to get there and to go to the final because no-one from South Korea had done that," -she says.
"Rhythmic gymnastics is like fighting with myself because it's competition. I go to the floor alone and do my performance and get the score - and I feel so free and so happy."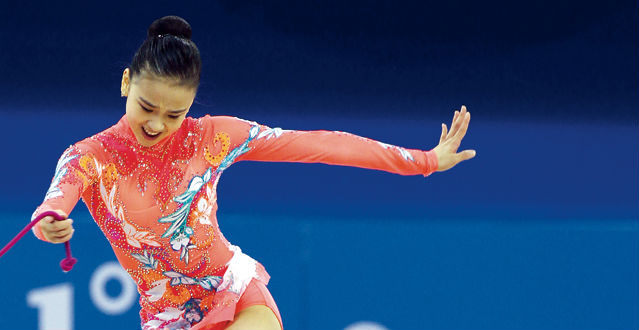 Son won a silver medal at the 2013 World Cup Final in the hoop and bronze in ribbon - her two favorite disciplines.
The following year she won bronze in hoop at the world championships - the best result by an Asian gymnast since 1975 - and then triumphed overall in front of her home fans at the Asian Games in Incheon.
"Competition makes me always nervous," - she reveals. "The absolute best moment is when I finish the performance and I do the final pose because I pour out all my effort in that one-minute-30-seconds routine."
Son Yeon Jae's training day is extremely exhausting. She trains six or seven hours a day, six days a week.
"Sometimes I don't think about anything. I just do. My body just does it because I train a lot, so it's automatic. But sometimes I think about every single element and I control it."
Son's next goal is to win a medal at next year's Rio Olympics, but bronze is her most realistic target according to De No Coma - especially as there are no titles for the various individual events, just for overall and team.
He says that the main candidates are the world champion Yana Kudryavtseva, Margarita Mamun and Aleksandra Soldatova, while Son will be fighting for the third place with Ukraine's Ganna Rizatdinova and Melitina Staniouta of Belarus.
Son is already looking towards life after competition – She has a very noble goal. She hopes to become an inspiration to young gymnasts as Kim Yu-Na is to skaters.
"When I started rhythmic gymnastics, (Korean) people didn't know anything about it but now they know everything so I want to keep it going like this," - she says. "I don't want to stop this attention to rhythmic gymnastics."
Recently, Son Yeon Jae performed at the World Championships in Stuttgart. Unfortunately, she didn't manage to get the top places but nobody evaluated her performances as failures. In fact, she made some mistakes. That's why her results were not the best. For example, Son got the fourth place with her ball routine scored 18.216 and she became fifth with her hoop routine scored 18.125. She was the only non-European gymnast who managed to achieve such high results.
The Korean gymnast, Yean Jae Son, is a serious threat for the Russian and the Ukrainian gymnasts on the threshold of the Olympic Games. Let us see whether she will reach the third place at the Olympic Games or not. Perhaps, she will surprise us and make us glad with even higher results.
We wish her luck! Let all her performances be victorious!
Tweet
Like
+1
Share
Share
Pin it
Read more
01 Sep 2016 at 06:00
01 Sep 2016 at 06:00
01 Sep 2016 at 06:00
Like it? Tell your friends
Tweet
Like
+1
Share
Share
Pin it